Toronto Children's Therapy Centre is excited to partner with registered occupational therapist Ali Cooper to launch a new online program!
Sprouting Seedlings:  an OT based approach to infant development (Virtual On-line classes)
The goal of the program is to coach parents and caregivers to optimally promote their infant's growth and development through an Occupational Therapy perspective.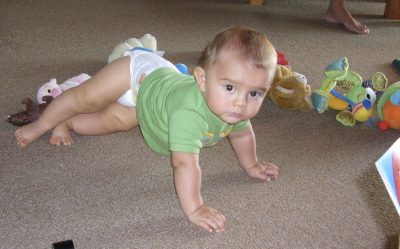 Sprouting seedlings: an OT-based approach to infant development targets parents and caregivers with babies aged 6-12 months. This is a time when babies grow and learn through exploration and play at an astonishing rate, all while developing motor, cognitive, and emotional skills. This program aims to go beyond the "what" of parenting and child development to target the "how-to", by guiding parents to implement fun and engaging strategies that promote their child's optimal growth and well-being.
Participants will be provided with evidence-based, actionable, and accessible information that is tailored to them and their child. Topics covered include:
Motor development and milestones – Motor development and milestones will be thoroughly covered to help you understand the best way to engage your child in play, games and fun activities in a way that best promotes their next milestone. We will also cover some motor developmental red flags and things to avoid in order to promote your baby's optimal growth.
Feeding– We will cover aspects of feeding behaviour and give you some practical tools to implement to help your child adopt healthy and positive feeding behaviours that are in accordance with their developmental age.

Co-regulation and Self-Regulation

– Lastly, we will cover what co-regulation and self-regulation are and why they are important to incorporate in your parenting style and mindset. We will discuss ways in which you can start implementing regulation techniques now to provide your child with a supportive and warm environment as they start developing their thoughts, feelings and behaviours.
Our program aims to not only provide coaching to parents, but also a platform for them to form valuable connections with other caregivers who have children in the same developmental age. At a time when physical distancing is the new norm due to the current pandemic, Sprouting Seedlings will be delivered in a group format where caregivers can meet, learn together, engage in discussions, and develop social networks.
This program has been developed and will be delivered by Emilia Amiama and Khadija Bounekhla, two passionate final-year student occupational therapists at the University of Toronto. Emilia and Khadija will be under the supervision of Ali Cooper, OT Reg. (Ont.), a registered Occupational Therapist with previous experience providing occupational therapy services to infants, children and young adults as well as educational courses to parents, occupational therapists and other professionals.
 Sprouting seedlings:   An OT-based approach to infant development includes:
Four, 1-hour live online group sessions via Zoom
Monday, June 1st , 2nd, 3rd and 4th at 11 am 
Parents will also receive a booklet to serve as a guideline and reference for parents to track their child's first year motor milestones, red flags, activities, and a resource list
Fees:
 $140 for four sessions. 
Occupational therapy services may be covered under your benefits.  Please check with your provider.
If you have any questions or would like more information, please do not hesitate to contact us at:
SproutingSeedlingsOT@gmail.com
Cancellation policy: 
Registrations are booked on a first come first serve basis.

Payment for the group must be submitted No following registration via e-mail money transfer 

No refunds for missed sessions unless cancelled by the group organizer