Toronto Children's Therapy Center offers placement opportunity for students in related programs in Toronto.   Below is an article on fun fall gross mootor activities  written by one of our students, Bryna Stahlbaum, RECE & Undergraduate student at Ryerson University.  
Fall is here! And if you ask me, there is no better time of the year to get outside and do some fun-filled exercise with your little ones!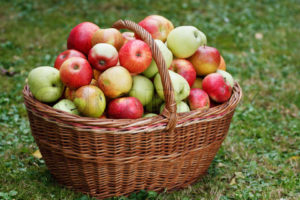 As a Registered Early Childhood Educator, I often have parents ask me what seasonal activities they can do with their children outside of child care, schools, or extracurricular activities. As fall is in its prime with the perfect temperature and beautiful environments to enjoy quality family time, what better than to participate in some fun, active, gross-motor building activities to do with your children before winter rushes in!
Why is gross motor play important?
Gross motor play is highly beneficial both for children with or without special needs. In fact, no matter what stage of development your child is in there is one universal truth for all children: they will need movement in some way or another every single day. It is important that we promote strength building to support children with any movement barriers they may face on a daily basis, for example; getting dressed, walking, carrying bags, balancing…
No matter what physical capabilities children have, in some form or another they will have to implement core strength and coordination to participate in their daily lives. Did you know gross motor play benefits child development in many more ways than just physically? An article from the Indiana Resource Centre for Autism, "The Value of Movement Activities for Young Children" shares their perspective,
"In physical education (motor) programs, the social, communication, emotional, and cognitive skills of children are "exercised" as well as their motor skills. Playing interactive games develops social interaction and communication skills while working on motor development. Problem- solving or cognitive skills such as counting, identifying colors, or learning body parts, are stimulated during games. Participation in motor activities with peers who are accepting influences friendships, and the social and emotional growth of all children."
Take a look at their article to learn more on the benefits of gross motor play, as well as tips and tricks!
https://www.iidc.indiana.edu/pages/The-Value-of-Movement-Activities-for-Young-Children
Reflecting on every child's unique strengths and weaknesses, I understand that not all gross motor games may be suitable for your child's interests and needs. You know your child best- have fun with it! Get creative and use materials in your natural environment to create a unique experience for your little one(s). From my experience, engaging in an activity that is challenging their needs but focuses on their interests and inherent capabilities (especially with your involvement!) equals success- and fun!
With the stresses and time constraints of everyday life, I have put together some time-friendly, fall-themed gross motor games to get you and your child moving.
Apple Picking with Baskets!

Go on a field trip with your little one(s) to an apple orchard! This is perhaps the most fall-friendly gross motor activity and there is so much you and your family can get out of this experience! Grab some baskets and see if your little one(s) can pick the apple straight from the tree, add them to the basket and carry the basket around. If you are a home-baker, or want to get many more apples than a basket can carry, try using a small wagon!
 Rake, Pile, Jump!
Is your lawn piling up with leaves this season? It can seem daunting to rake all of those leaves on your own after a long day, so why not invite children and make it a game! Give them a child sized rake, let them use their hands and arms to scoop the leaves up, or use any other tools you may have at home and make the biggest pile you can! Next, have your child jump in the leaves and see who makes the biggest SPLASH!
Outdoor Yoga
Yoga is an extremely popular way to wind down and focus every muscle in the body. Traditionally practiced by adults, yoga is now being practiced more and more with children. With the crisp fall air and beautiful scenery there is no more relaxing atmosphere than outdoor yoga. Lie out a mat, or create a relaxing outdoor space with materials from home and go through a few simple yoga moves with your child. Want to make it a little more interesting? Ask your child what stretches they can come up with and join in! If you would like some simple yoga moves to practice with your little one(s), this website is a great resource!
http://www.yogajournal.com/category/poses/yoga-for/kids/

Leaf Bag Race
Combining raking and piling leaves with a relay race, this game will keep you and the kids busy and active! Rake or pile the leaves in a big pile and hold open garbage bags (whichever size you think is best for your child!). Have your little one(s) take big scoops of the leaves and put them in the garbage bags. Tie the garbage bags up and pick a starting position- you get one bag, your little one(s) gets their own bag. Standing and holding the top of the bag with two hands, pull the bags across the yard and see who gets to the other side first! Want to make this more challenging? Add an obstacle course!
Pumpkin/ Gourd Relay Race
Gather fake or real small pumpkins/gourds and find a starting position. Each person gets one pumpkin/gourd! You and your little one(s) will stand holding the pumpkin/gourd on the top of your head and speed walk to the finish line, trying to not drop the pumpkin/gourd! Want to make this more challenging? Draw a line with chalk or create a line with string and try to walk one foot in front of the other for balance!

Go for the Ghost
With Halloween just around the corner, this game will combine creativity and gross motor skills- ending with a H
alloween decoration that can stay up all season! Find a hanging Ghost decoration at the store, or better yet make it an art project with your little one(s)! Out of a bag, paper, tissues or any materials you have in the house; create a Ghost and hang it from a
tree in the yard, or anywhere you see fit. With your child, stand a couple steps back from the ghost and use a ball to take turns throwing at the
Ghost as your target! Each time you hit the Ghost, take a step back and throw further. Want to make this more challenging? Adjust the Ghost higher or lower each time your little one(s) throw!
Bobbing for Apples
A classic fall-friendly game, bobbing for apples can be done in so many ways! Practice your creativity with this game, and ask your child for some ideas, too! All you need are some apples, water, a container and a game-face on as you bob for as many apples as you can in 30 seconds and see who gets the most! Whether you bob with your mouth, a fishing rod, a butterfly net or any other items you have at the house- this game is sure to bring laughter and concentration!
Remember that in any season there are so many opportunities to get outside and get moving! With an almost constant focus on technology every day, there is nothing more refreshing than stepping outside and setting aside some much needed family time!