by Samanta Rivas-Argueta, occupational therapy student University of Toronto
edited by Jacquie Martin MSc. OT Reg. (Ont) with appreciation
It's time for potty training!
Learning to use the toilet independently is an exciting milestone for all kids (and parents!). Not only is toilet training a right of passage for every child, but they also have the opportunity to :
1) develop their communication skills,
2) practice other tasks such as dressing and handwashing,
3) build interoceptive awareness (the awareness of cues from inside their body) and 
4) practice and build their motor skills.  
It's a "Big Kid" job and brings with it big anticipation, big celebration and sometimes big stress. We are here to help! We know that learning to use the toilet independently is a complex multi-skill activity and many parents have the same questions…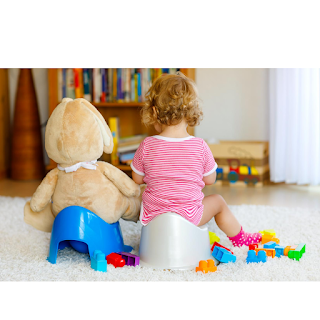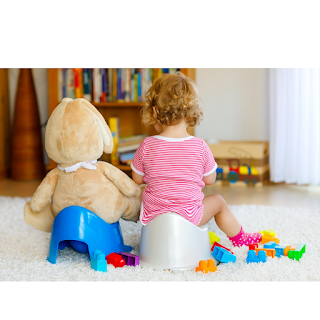 "How do I know if my child is ready?"   
"How do I get started?"
"How long will training take?"
"What if my child isn't interested?"
"Should I use rewards?"
"When should I transition from diapers to underwear?"
 In this blog, we will answer some of these common questions and explore the concepts of toileting readiness, the skills required for toileting, the factors that impact toilet training success as well as common challenges in the toileting process. 
(Marcus Autism Center, 2020 ; Mota & Barros, 2008)
Is it time to start potty training?
If you are wondering 'when is the right time to start potty training?', the concept of toileting readiness may be useful. Toileting readiness refers to a developmental stage when your child is showing signs that they are ready to begin toilet training. Here's a checklist you can use to help determine if your child is ready to start this journey.
Your child is able to follow simple instructions.    
Your child tells you when their diaper is dirty (words, gestures or behaviours).
Your child tells you right before or while they are going that they are going.
Your child's diaper stays dry for about two hours at a time during the day.
Bowel movements come at regular times.
Your child typically stays dry through the night.
Your child may show an interest in the toilet and an interest in underpants.
You may also notice that your child is more independent, wants to do things for themselves or do them their own way, and probably enjoys some alone time.    (Bobnar, 2019)
Toileting readiness is not about chronological age. It prioritizes your specific child's physical, cognitive and physiological development. With that in mind, it's important to remember that any child may be 'ready' to start toilet training at the age of 2 years old or at 4 years old. There is no right age.  
Note on Culture: In North America, toilet training typically starts around age 2 or 3 and there is a more predominant focus on the toileting readiness approach compared to other countries. 
Another critical factor for whether or not your child should start toilet training is your own readiness; parent readiness. Often, the situation at home may not be optimal to begin training. Here are some key factors to consider as a parent;
Time commitment

→ Am I ready to commit the time for training? Ideally, you would dedicate 2 to 3 days for intensive toilet training. Remember that your child may take two to three months before being fully toilet trained.

Energy and consistency

→ Am I physically and mentally ready to engage in potty training on a consistent basis? Am I dealing with other stressors that I need to prioritize? Potty training requires enthusiasm, motivation and tons of patience. 

Detective work

→ Am I able to prepare effectively before starting potty training? To achieve the best toileting outcomes, it is recommended to prepare in advance and avoid guess work. Ideally, you would take 2 days or 24 hours before toilet training to observe and take note of your child's readiness and physical rhythms. This includes checking the diaper every 30 minutes and noting whether it's dry or wet. This prep work will give you a better idea of what to start with for your child's toileting schedule.  

Toilet training shopping list

→ There are some key "supplies" that you will need to purchase prior to toilet training. These include a floor potty or training insert seat with handles, a step stool if using an insert toilet seat, potty training picture books, training underwear (special undies are motivating), training pants (pants or shorts with elastic waist), rewards (if you decide to use them), etc. 
With this in mind, don't feel pressured to start potty training if you feel that you or your child are not ready. Remember that potty training is a complicated process and there is no universal "right" time to start. There is no need to rush into training. 
(Kaerts, Van Hal, Vermandel, & Wyndaele, 2012) 
COMMON CHALLENGES IN TOILETING
When toilet training, you may notice your child struggles with certains steps of the toileting sequence. This can be worrisome! But remember that toilet training is not a race, it's a marathon. Here are some common challenges children experience while toilet training. 
 Gross motor and postural difficulties 
Difficulty sitting on the toilet in a stable position

Difficulty remaining in a squatting position on the toilet for an extended amount of time

 

Difficulty wiping themselves
Sensory processing difficulties 
Temperature and skin contact sensitivity 

Sensitivity to sound of flushing

Sensitivity to smell in the washroom
Physical/Medical concerns 
Chronic constipation and/or diarrhea

Urinary tract infections
Transfer of toileting skills to other settings
Able to use the washroom successfully at home, but not at school, and vice versa.
Behavioural difficulties – considered when other factors, such as biological, physiological or sensory, have been ruled out. Examples of behavioural difficulties include; 
Resistance to remain on the toilet for a required period of time;

Refusal to enter the bathroom;

Defiance to engage in toileting tasks (e.g. tantrums);

Urinating and defecating in different area of the house, not in the bathroom;
(Your Therapy Source, 2016; Therapy Fun Zone, n.d.;Dunn, 2007; Heffron, 2016);
GENERAL TIPS
Before you start toilet training, make sure your child is in overall good health and be sure your child's bladder and bowel function is optimal. If necessary, check with your primary care provider or pediatrician. As you begin toilet-training, here are some key tips to help you get started on your toileting journey. 
Clear your schedule

– You will need to dedicate at least a few days to toilet training. 

Make sure your child wears underwear

– Your child should wear underwear when toilet training starts to allow your child to feel the sensation of wetness following an accident. This can help speed up the learning process.

Consider the teaching environment

– Choose a stable and comfortable space that will allow for the most consistent training. You may want to purchase a potty to place on the floor or a toilet seat insert with handles and feet support. Remember that a child won't release if they are in an unstable position. 

Diet/fluid Intake

 – Be aware of how much your child is drinking or eating to increase the likelihood your child will need to pee and poop. 

Reinforcement

– Don't be afraid to use rewards to keep them motivated. 

Sit schedule

– It is important to begin by taking your child to the bathroom approximately every half hour. They should only be sitting on the toilet for 5 minutes maximum at a time. As he or she has success, slowly increase the amount of time off the toilet.

Use consistent language

– Use language that your child will understand and pick up easily. There are no magic words or phrases, just be consistent.

Create a visual schedule

– In case your child is having trouble with sequencing the tasks involved in toileting, providing a visual aid would help them remember the steps and promote success. 

Don't Ask. Tell.

When starting, don't ask the child whether or not they want to use the toilet. Instead, tell them it is time to go to the toilet and help them get there. Many kids don't know themselves if they need to use the toilet until they learn how their body sensations are connected to the activity of toileting. 

Never punish for accidents

– Accidents are accidents and they are normal in the training process. Set-backs are also normal. Punishment could slow down your child's progress. 

Be patient and positive –

 Be positive and patient as your child develops all the new skills for their BIG KID activity. It can feel like a roller coaster but you WILL be successful. 
If your child continues to exhibit challenges with toileting, they may benefit from additional  assessment and support in that area. An occupational therapist can help you and your child overcome challenges and work towards this important self-care milestone.
Occupational therapists at TCTC can help!
Pediatric occupational therapists are well-positioned to assist you when toileting challenges are overwhelming or you need additional support through the training process. Here are the services we can offer for you; 
Comprehensive toileting assessment;

Assessment of your child's physical and developmental status, environmental factors, family and cultural factors help to determine a holistic profile of toileting readiness and competence as well as goal areas.   

Development of treatment plans and programming;

Collaborating with parents for goal setting and intervention planning

Providing strategies to address areas of toileting difficulty (e.g.,

bathroom set-up,  scheduling & routines, task-specific training, physical strengthening exercises, interoceptive awareness training, behavioural strategies

, etc.)

Monitoring and adapting the intervention based on progress

Education on toileting;
Toileting misconceptions and expectations;
Toileting strategies & relelvant resources (books, videos, etc.)
Referral to specialised services as needed;
And much more…
In summary, toileting is an important occupation in our children's development and independence. If toilet training has become an overwhelming task in your household, you may benefit from the help of an occupational therapist (OT) at TCTC

.

Please

contact us

if you would like to speak to an OT about your child's toileting. We would be happy to speak with you about setting up an assessment and how we

 can help! 
References 
Autism Speaks. (n.d.). Toilet training: a parent's guide . REtrieved from: https://www.autismspeaks.org/sites/default/files/2018-08/Toilet%20Training%20Guide.pdf
Bobnar A. (2019). How to potty train a stubborn toddler. Retrieved from: http://www.wonderbaby.org/articles/how-potty-train-stubborn-toddler
Dunn, W. (2007). Supporting children to participate successfully in everyday life by using sensory processing knowledge. Infants & Young Children, 20(2), 84-101. 
Kaerts, N., Van Hal, G., Vermandel, A., & Wyndaele, J. (2012). Readiness signs used to define the proper moment to start toilet training: A review of the literature. Neurourology and Urodynamics, 31(4), 437-440. doi:10.1002/nau.21211 
Marcus Autism Center. (2020). Toilet training a child with autism. Preparation and consistency are the keys to successful toilet training. Retrieved from: 
https://www.marcus.org/autism-resources/autism-tips-and-resources/tips-for-toilet-training
Mota, D. M., & Barros, A. J. (2008). Toilet training: methods, parental expectations and associated dysfunctions. Jornal de pediatria, 84(1), 9-17. 
Therapy Fun Zone. (n.d). Modifications for Potty Training. Retrieved from https://therapyfunzone.net/blog/modifications-for-potty-training/ 
Your Therapy Source Inc. (2016) Gross Motor Skills and Toilet Training. Retrieved from http://yourtherapysource.blogspot.com/2016/02/gross-motor-skills-and-toilet-training.html